Welcome to Supreme Dragon Ball Wiki

---

---
Hello, we welcome you to Supreme Dragon Ball Wiki, better known as Lookout, a Dragon Ball Z database that specializes in role-playing and writing fan-fiction. We combine elements from other anime and series' and mix them with Dragon Ball to make one great, unique creative experience!

On this wiki, we combine several elements from several other shows, games and anime and merge them with Dragon Ball to have a great, unique, creative result! Any user can role-play, chat and write fan-fiction, as long as they read the Official Wiki Rules and policies on it. The wiki is not very strict or too formal, we allow a lot of social flexibility and treat our users like a community!

You can contact the members of the Lookout Council or any user on the wiki to help you on the wiki! We are a large community. However, we are in no way endorsed or affiliated with Toei Animation or the makers of any of the series you may find on the wiki.

SLOGAN: Twisting Dragon Ball and RP into a new reality!
---
---
The main Lookout RP characters.
Lookout Council

The Lookout Council is comprised of the Bureaucrats, Administrators and Chat Moderators that help deal with problems and issues on the wiki, such as designs, rule enforcement, and policies. Message them for any help.
---
For a full list of non-mod rollbacks, click here. | For our list of technical administrators, click here.
Character of the Week

Our Character of the Week will be Azazel! Good Job!
---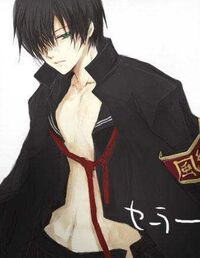 The most promising student of the New Warriors Training Program, Azazel, nicknamed the Fallen Angel, quickly rose through the ranks of humanity to become a powerful soldier, intended to be an equalizer in any war (should it happen) against the Saiyans. His combat skills were said to be one of a kind and his mastery of ki was on another level entirely. It should be noted that he is the student of Gozed, and the direct son of one of Gozed's former students.
Fan-Fiction Reccomendation of the Week

This is where Zion adds the Fan-Fiction Reccomendation of the week!
Our Fan-Fiction Reccomendation of the Week will be Saiyan Chronicles! Good Job!
---
The History of Kuzoh is an RP/fan-fiction written by TheGreatKuzon!, about the life of Kuzoh, the RP character Kuzon's grandfather, and his life story about how he lived on Planet Plant with the Tuffles and Saiyans and his life. The story is a great throwback for anyone who is into Role Play and would like to know a by of lore of it.

Policies
Admins
Guides
Reference
Create a page and get started!
---
Today is June 1, 2016.
Supreme News!

May 2016
---
May 1 2016: Freezing-Soul has demoted himself from administrator.
May 8 2016: LOOKOUT IS 4!!!! Happy wiki anniversary, we have made it this far!
May 12 2016: Wiki now has a chat bot for better RP records and chat management.
May 15 2016: Leogian4511 has been promoted to an administrator.
---
This is the current month's news. For the previous months' news archive, visit Supreme News Archive.
User of the Week

The User of the Week is TheGreatKuzon!!
---
TheGreatKuzon! is usually referred to as just Kuzon, or Kuz for short. He is a Bureaucrat Admin who was here when the wiki was founded, as the co founder. He helped Zion found the wiki, back on May 8 2012. Kuzon's best known characters from the L1 Era are Kuzon and Kuzon Jr., some of the wiki's most developed and colorful characters. As of now, Gaven is his main character, and he is developing upcoming characters Seika and Velvet. As admin here, Kuzon has developed many arcs. His most successful arcs were The Herulean War and the Great Universal Revolution.

Latest Blogs
---
</br>