Under Maintenance and Clean Up
Welcome to Supreme Dragon Ball Wiki

---

---
Hello, we welcome you to Supreme Dragon Ball Wiki, better known as Lookout, a role-playing and fan-fiction database founded on 8 May 2012 that combines Dragon Ball elements with those of other anime and series to create one unique universe!

On this wiki, we combine several elements from several other shows, games and anime and merge them with Dragon Ball to have a great, unique, creative result. Any user can role-play, chat and write fan-fiction, as long as they read the Official Wiki Rules and policies on it. The wiki is not very strict or too formal, we allow a lot of social flexibility and treat our users like a community.

You can contact the members of the Lookout Council or any user on the wiki to help you on the wiki! We are a large community. However, we are in no way endorsed or affiliated with Toei Animation or the makers of any of the series you may find on the wiki.

SLOGAN: Twisting Dragon Ball and RP into a new reality!
---
---
The main Lookout RP characters.
Lookout Council

The Lookout Council is comprised of the Bureaucrats, Administrators and Chat Moderators that help deal with problems and issues on the wiki, such as designs, rule enforcement, and policies. Message them for any help.
---
For a full list of non-mod rollbacks, click here. | For our list of technical administrators, click here.
Featured Character

Our Character of the Week will be Agony! Good Job!
---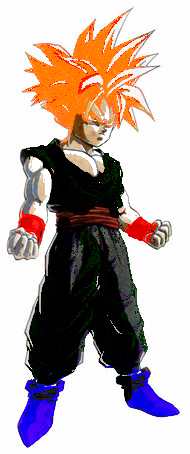 Agony (苦しみ Junan) was created after Supreme Terrek got blown up to tiny particles by Ultimate DJ. The particles were drifted away into space. Solar energy started feeding these particles, turning them into many bodies. These bodies fused together into six bodies, The Six Paths of Agony.
Agony is merciless and crazy. He believes destroying Earth will cause peace because it will cause agony to anyone and everyone, even to people who aren't on Earth. He is pretty much a cold-blooded, killing machine.
Agony
Featured Fan-Fiction Recommendation

This is where Zion adds the Featured Fan-Fiction Recommendation!
Our Featured Fan-Fiction Reccomendation will be Saiyan Chronicles! Good Job!
---
The History of Kuzoh is an RP/fan-fiction written by TheGreatKuzon!, about the life of Kuzoh, the RP character Kuzon's grandfather, and his life story about how he lived on Planet Plant with the Tuffles and Saiyans and his life. The story is a great throwback for anyone who is into Role Play and would like to know a by of lore of it.

Policies
Admins
Guides
Reference
Create a page and get started!
---
Today is October 22, 2016.
Supreme News!

October 2016
---
October 11 2016- Imperial Wyrm has demoted himself from admin and left the wiki and Vegeta2314 has replaced him as admin. Bye!
October 16 2016 - The wiki is now undergoing a massive change-all canon pages are being deleted along with the rules and page standards being updated and more. See here!. Alissa the Wise Wolf has been promoted to Bureaucrat.
---
This is the current month's news. For the previous months' news archive, visit Supreme News Archive.
Featured User

The User of the Week is Leogian!
---

Latest Blogs
---
</br>