Welcome to Supreme Dragon Ball Wiki

---

---
Hello, we welcome you to Supreme Dragon Ball Wiki, better known as Lookout, a Dragon Ball Z database that specializes in role-playing and writing fan-fiction. We combine elements from other anime and series' and mix them with Dragon Ball to make one great, unique creative experience!

On this wiki, we combine several elements from several other shows, games and anime and merge them with Dragon Ball to have a great, unique, creative result! Any user can role-play, chat and write fan-fiction, as long as they read the Official Wiki Rules and policies on it. The wiki is not very strict or too formal, we allow a lot of social flexibility and treat our users like a community!

You can contact the members of the Lookout Council or any user on the wiki to help you on the wiki! We are a large community. However, we are in no way endorsed or affiliated with Toei Animation or the makers of any of the series you may find on the wiki.

SLOGAN: Twisting Dragon Ball and RP into a new reality!
---
---
The main Lookout RP characters.
Lookout Council

The Lookout Council is comprised of the Bureaucrats, Administrators and Chat Moderators that help deal with problems and issues on the wiki, such as designs, rule enforcement, and policies. Message them for any help.
---
For a full list of non-mod rollbacks, click here. | For our list of technical administrators, click here.
Character of the Week

This is where the chosen admin (Alissa the Wise Wolf) adds the character of the week
Our Character of the Week will be Jericho! Good Job!
---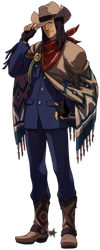 Jericho Lonestar is Imperial Wyrm's Main Role-Play character. He was a cowboy and a wandering outlaw, who, was a normal Human until Neki trained him. He saved the world from Taze, along with Zion X and others. Jericho is the friend and mentor of Gaven, and currently lives on the lookout. He is also a member of the Agents of Justice.
Fan-Fiction Reccomendation of the Week

This is where Zion adds the Fan-Fiction Reccomendation of the week!
Our Fan-Fiction Reccomendation of the Week will be Saiyan Chronicles! Good Job!
---
The History of Kuzoh is an RP/fan-fiction written by TheGreatKuzon!, about the life of Kuzoh, the RP character Kuzon's grandfather, and his life story about how he lived on Planet Plant with the Tuffles and Saiyans and his life. The story is a great throwback for anyone who is into Role Play and would like to know a by of lore of it.

Policies
Admins
Guides
Reference
Create a page and get started!
---
Today is May 4, 2016.
WikiChat

Come Join the RP!
0
Supreme Dragon Ball Wiki
Join the Chat>
Supreme News!

May 2016
---
May 1, 2016: Freezing-Soul has demoted himself from administrator.
---
This is the current month's news. For the previous months' news archive, visit Supreme News Archive.
User of the Week

The User of the Week isXxGodZerxesxX!
---
XxGodZerxesxX is usually referred to as Zion. Zion is the founder of this wiki, and currently a page reaper. He contributes daily despite his busy schedule and likes to fool around with other longtime members. Some of his pages are, Panto Visio and Zion X. Please chat with him any time to get to know him better.

Latest Blogs
---
</br>