Home
Talk

47
4,770pages on
this wiki
Welcome to Supreme Dragon Ball Wiki

---

---
Hello, we welcome you to Supreme Dragon Ball Wiki, a Dragon Ball Z database that specializes in role-playing and writing fan-fiction. We combine elements from other anime and series' and mix them with Dragon Ball to make one great, unique creative experience!

On this wiki, we combine several elements from several other shows, games and anime and merge them with Dragon Ball to have a great, unique, creative result! Any user can role-play, chat and write fan-fiction, as long as they read the Official Wiki Rules and policies on it.

You can contact the members of the Lookout Council or any user on the wiki to help you on the wiki! We are a large community. However, we are in no way endorsed or affiliated with Toei Animation or the makers of any of the series you may find on the wiki.

SLOGAN: Twisting Dragon Ball and RP into a new reality!
---
The main Lookout RP characters.
---
Create a page and get started!
---
Today is March 3, 2015.
Lookout Council

The Lookout Council is comprised of the Bureaucrats, Administrators and Chat Moderators that help deal with problems and issues on the wiki, such as designs, rule enforcement, and policies. Message them for any help.
---
For a full list of non-mod rollbacks, click here. | For our list of technical administrators, click here.
Supreme News!

March 2015
---
---
This is the current month's news. For the previous months' news archive, visit Supreme News Archive.
---
Popular Content on the Wiki
Arackhan, the Gourmet Conqueror. Embodying the planet's appetite, Arackhan became renowned as the Gourmet Conqueror without equal. It is said that only Bisani Toribra could match Arackhan's power, but that remains to be determined courtesy of Arackhan's ever-growing power.
In this state, Arackhan is the size of a skyscraper, but its size is variable and indeterminate.
During Bisani's absence, the planet's appetite, split among 12 creatures, ended up in one body after being separated for unknown millennia. As Bisani attended to affairs on the Lookout, and spent most of his time on Earth training, Arackhan had rapidly evolved, the appetite of the planet awakening and transforming Arackhan into the creature it currently is. To solidify its position as the strongest Gourmet World Creature, it journeyed across the world and defeated the 8 Kings, the creatures in Gourmet World's Night, the Blowfishes of the Deadly Sin, and the creatures beneath the surface, assimilating their Gourmet Cells and strengthening its own.
Currently, it is the strongest creature in the Gourmet World, and is about to travel to other planets across the universe to conquer each and every one of them, starting with Earth.

Policies
Guides
Hubs
Reference
Admins
---
Featured Characters
Normal
hi
Villain
bye
Featured Photos & Themes
Photo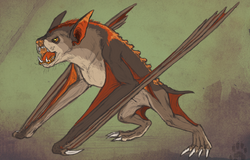 ---
Theme